You want to sound more natural when you speak English, but you do not know how. However, fluency is a skill, and like any other skill, it requires constant practice in order to improve. But what should you focus on in order to become fluent in English?
Of course, every student is different, but there are a number of ways to improve your ability to speak English fluently. You may be able to devote some of the time to your vocabulary, read useful talks, or correct system errors.
In this post, we will focus on five common grammatical errors that English middle school students make when speaking English. Later in the post, you will learn how to stop making these mistakes and how to assemble the right structures. By following the tips I share with you here, you will feel fluent and natural immediately!
These are not the only problems English middle school students face, but because they are so common, they are a good place to start.
Here's what we'll cover:
Don't use will for plans
Know when to use the present perfect
Know when to use the present continuous
The present continuous is not for facts
Use an infinitive structure instead of that
5 Grammar Changes To Improve Fluency In English
1. Don't Use "Will" for Plans
Now how about 'WILL'. There are a few situations when it is appropriate to use 'will'. Let's first look at the most common ones as mentioned in the video lesson.
Use WILL for spontaneous decisions and plans made at the time of speaking.
I think I'll have sushi for lunch.
It's getting late. I think I'll go home.
*You can notice that we often use 'I think' or 'I don't think' before 'will.
Use WILL to express yourself when thinking or considering plans.
I think I'll stay home tonight.
I don't think I will come with you.
I will probably be really busy tomorrow.
Use WILL for predictions; when we guess or believe something about the future.
I think I'll probably be really busy on the weekend.
I probably won't be available tomorrow night.
Do I know for sure? No.
We can use 'will' when we are not completely sure. "Probably' implies that we are quite sure, but not 100%
I think we will be living on Mars in 100 years from now. (This is future continuous: WILL + BE + VERB ING)
I don't think we will use cars in the future.
I think it'll be really hot tomorrow.
So what's the difference between WILL and BE GOING TO in these sentences;
a) I think it will be really hot tomorrow.
AND
b) It's going to be really hot tomorrow.
That's right!
In a) I'm not completely sure. I'm making a guess about the future.
In b) Here I have some evidence. I can see the weather outside and I am quite certain about this prediction.
OTHER USES OF 'WILL'
To make an offer of help. 
  Don't worry. I'll help you move house.
Showing that you're happy and willing to do something
  I'll pay for drinks tonight. 
To make promises. 
Show your determination to do something
  A: You're not going to pass that exam.
  B: Yes I will!
It's also very common to use BE + VERB ING (Present Continuous) to talk about future plans.
2. Know When to Use the Present Perfect
Of all the English verb tenses, the present perfect is probably the one that can give you a headache. Its unique uses can be difficult to understand and very important to use. But there is good news! If you remember a few simple tricks, you can learn to use them well and confidently! Want to know more? Keep reading and find out.
Introducing the Present Perfect
The present perfect is a tense that links the past to the present in some way. That can mean talking about your life experience until now, or describing an action that started in the past and continues in the present, or talking about a recent event that is relevant to now. The key thing is that we never use a finished time with the present perfect (unlike the simple past), such as yesterday, last week, in 1995. Instead we use an unfinished time expression, like today, this week, this year, in your life. Compare the following: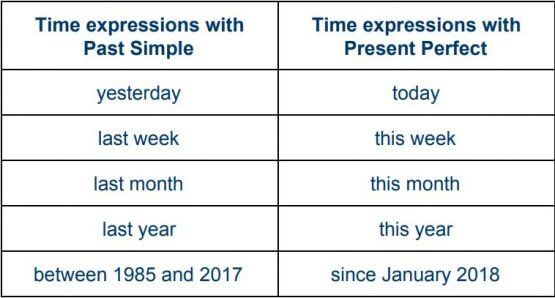 How to make sentences in the Present Perfect
We create the present perfect by using the verb 'have' and the past participle of a verb. For example,
"You have been to New York."
To make questions we invert 'have' and the subject:
"Have you been to New York?"
And to make negative forms we add 'not':
"You haven't been to New York." 
The only small variation of this is with the third person singular that requires has instead of have. Here is a table with a complete set of examples: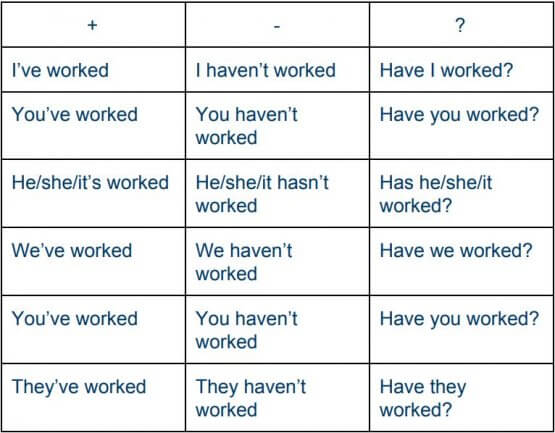 As you can see, it's common to contract have to 've, and has to 's. The short answer form is Yes, I have/No, I haven't.
Now let's look at the three main situations in which we use the Present Perfect.
1) Recent actions
We use the present perfect to describe a recent action or ask if something has happened recently. It's often used with words like just, already, yet, still. We often use the present perfect in this case when some action or situation has an effect on the present. For example,
I've lost my passport so I can't get on the plane!
(Finished action in recent past – consequence now.)
Here are some other examples:
Have you finished the report yet?
I haven't seen Pablo today.
Sally has just gone out.
We've already had lunch.
They still haven't delivered the goods!
2) Life experience
We use the present perfect to talk about things that have or haven't happened in our lives, without referring to a specific time. We often use 'ever' in questions with this use, and 'never' in negative sentences. For example,
Have you ever been to Montreal?
No, I've never been there.
She's visited Australia three times!
We've never missed a flight fortunately.
Has this team ever won a tournament?
After describing the main life experience with the present perfect, it's typical to give details with the simple past. For example,
He's received three important promotions in his career. (present perfect)
The last one was for the position of CEO. (simple past)
3) Unfinished actions
We also use the present perfect to talk about actions or situations that started in the past and continue in the present. To refer to the time the action started we use 'since', and to refer to a period of time we use 'for'. For example,
We've lived here for 10 years.
They've been married for 25 years.
How long have you worked for this company?
It hasn't rained for weeks.
You've had that car for ages.
Compare the following: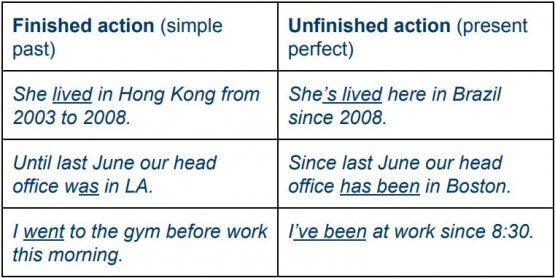 How to know when to use the present perfect or the past simple
When you need to choose between using the present perfect and the past simple, ask yourself these questions:
NO Use the present perfect.
YES Ask yourself the next question.
Is there a finished time expression?
YES Use the simple past.
NO Use the present perfect.
As you can see, once you understand and remember these key facts about the present perfect, it's easier to use than you previously thought. Practice is essential of course, and above all practice through speaking.
At Wall Street English you learn the different uses of the present perfect in different lessons and even at different levels, and in every case you learn to use it naturally through listening and speaking. Find out more about Our English Courses.
Try this fun activity now to practice using the present perfect.
3. Know When to Use the Present Continuous
Looking for ways to make your use of English interesting and lively? The present continuous tense is part of a really useful program and will allow you to add a touch of punchiness to both your written and spoken English. Read on to find the right way to use it!
What is the present continuous?
The present continuous tense is a grammatical tense that can be used to describe when an action happened or may happen. You can use it to describe both events that are happening in the present – right now, while you are talking about something, or in the future – something that may or will happen later on.
You use the present continuous by using the present form of the verb "be" + the present participle of a verb.
Thing that are happening now
You can use the present continuous to describe immediate events taking place in the current moment:
Eg. "She is eating dinner right now and cannot answer the phone."
You can also use it in the same way for the negative form:
Eg. "They're not watching TV at the moment."
Temporary events
For longer actions that may be taking place for a temporary period only, you can use the present continuous tense to describe them. It can be used for any temporary situation, no matter how long or short it is.
Eg. "He's studying a new language at the moment."
A new pattern or habit
A really interesting way of using the present continuous tense is to describe events or actions that are new and different from events in the past. In this case, the tense can be used to highlight the contrast between the old and new.
Eg. "These days, people are writing emails a lot less than they used to a few years ago."
It can also be used to describe a regular habit that someone has – whether it is a good habit, or a bad one!
Eg. "You're always running late with all your deadlines!"
Future plans
When describing something that will take place in the future, the present continuous tense can be used when you are discussing something that is already discussed or planned ahead.
Eg. "When we arrive at the airport, we are taking a private car direct to the hotel."
When not to use!
It's important to bear in mind that you cannot use the present continuous for all events taking place in the present. You do not use it to describe events that happen normally, or for a long time:
Eg: "I play the piano every morning" is correct.
"I am playing the piano every morning" is not correct, unless it was a new habit you had just started.
Another instance where you do not use the present continuous verb is with non-continuous verbs. These are a small group of verbs that describe things that you cannot normally see someone do, for example: to love, to fear, to want, to cost, and others. With these verbs, you use the present simple tense instead.
Eg. "A loaf of bread costs Rs.30."
You do not say "A loaf of bread is costing Rs.30.."
4. The Present Continuous is Not for Facts
We use the simple present and not the present continuous to talk about routines and permanent situations.
Compare
I am drinking coffee now. (temporary)
I drink coffee every morning. (routine/permanent)
I'm drinking coffee every morning.-wrong
She is going on vacation next week. (future)
She goes on vacation once a year. (routine/permanent)
She's going on vacation once a year.-wrong
5. Use Infinitives of Purpose Instead of "That"
We can use to + infinitive to say why we do something. It tells the other person the reason. We need to have a normal verb as well.
I went on holiday (this is what I did) to relax (this is why I did it).
She studies hard to get good marks.
He gave up cakes to lose weight.
I'm calling you to ask for your help.
Be careful! In many languages, we use 'for + infinitive'. This is not correct in English.
The main verb can be in any tense. For example:
Present simple: I exercise every day to stay healthy.
Present continuous: He's saving money to buy a flat.
Past simple: I went to university to get a degree.
Past continuous: She was walking to the shops to buy milk when she met John.
Future simple: He'll come to the party later to pick up Julia.
Present perfect: She's gone to the library to study.
We can also use 'in order to + infinitive' and 'so as to + infinitive'. 'In order to' is a bit more formal but the meaning is the same as 'so as to' and 'to + infinitive'.
I went on holiday to relax.
I went on holiday in order to relax.
I went on holiday so as to relax.
We can use a negative infinitive of purpose by adding 'not' before 'to'. Often we do this with 'in order not to' and 'so as not to'.
I drank coffee in order not to fall asleep.
He got up very quietly so as not to wake the children.
We can only use the infinitive of purpose if the subject of the main verb and the infinitive of purpose are the same. If they are different, we use 'so that + clause' or 'in order that + clause'.
I went to the library to study. (I went to the library and I studied – the subject are both 'I'.)
BUT
I went to the library so that John could study. (I went to the library, but John studied. The two subjects are different – I and John – so we can't use an infinitive of purpose.)
With the verbs 'come' and 'go', we use an infinitive of purpose when they're in a normal tense but we often use 'and + infinitive' with imperatives or after modal verbs.
I went home to sleep.
Go home and sleep!
You must go home and sleep!
Why Your English Isn't Improving
If you are a moderate English student, and you feel you are holding on to this level, you might ask yourself: "After all this time learning English, why am I not making progress?"
The solution may be obvious: Expand your knowledge and learn new vocabulary. And it is true that learning new words, phrases, and structures will help you to improve, but that is part of the story. To achieve advanced levels, as well as greater confidence in using English, you need to refine and integrate what you already know.
Let me illustrate with an example. What I have noticed in my experience of working with English students is that the problems they face when speaking are often very similar. It could have happened to you too: while
you speak English, you feel like you made a lot of mistakes and you start to feel depressed and frustrated.
Here's the good news, though: Do not make too many mistakes. In fact, it is more likely that you will make a few similar mistakes repeatedly during the conversation. So correcting one mistake will help you to feel more natural and fluent in English.
Many of my clients started our secret English lessons frustrated because they had been stuck in the middle class for so long. But soon
focusing on correcting bad habits and consolidating past knowledge, their skills change and they give up. The knowledge that they have acquired over the years is no longer relevant; now they can easily reach it with confidence.
How to Integrate What You're Learning
One of the best things you can do right now is to become a fluent speaker.
The progress I have seen my clients make after incorporating this practice into their system is amazing, so I encourage you to give it a try. Here's what you need to do:
Choose a question to answer. It could be, "When was your last vacation? Where did you go and what did you do?" Or, "How long have you been living in this city? Are you thinking of moving to a different country?"
Record your answer. You could use your phone to record a video of yourself speaking, or use a voice recorder app.
Speak for at least one minute. Answer the question and give as much detail as you can.
Listen to your recording and write down any mistakes we covered today (or any other issues you notice).
Record your answer again and make sure you correct the errors.
Try this exercise at least twice a week for a few weeks and you'll see the difference. If you need help with finding things to talk about, here are some questions you could answer:
What are you doing tonight? How about this weekend? What are your hopes or predictions for next year?
Have you ever been to Canada? Which countries have you visited? Which one was your favorite and why?
How long have you been working at your job? Do you enjoy it? What other jobs would you like to try if you had the chance?
Do you drink coffee every morning? Do you prefer tea? What do you usually do on Sundays?
When you're having problems at work, can you ask people to help you? Or do you have to find the solutions on your own? Does your manager expect you to work late and on weekends?
Final Thoughts
If you're always learning new things and not giving yourself the chance to practice and improve what you already know, how is your language going to evolve? I encourage you to take the time and integrate the tips you've learned today in your next English practice session. And if you know someone who'd find this article helpful, please share it with them!
Entri is a vernacular language e-learning platform for India. Entri App features thousands of video classes, mock exams, and study cards in vernacular languages. Watch video classes from India's best teachers and learn concepts quickly. Strengthen your concepts and improve your weak areas, with the help of flashcards and quizzes. Discuss your doubts with teachers and rank holders and achieve your dream of securing a job.
Why should you join Entri course-English Padikkyam with Inverted Coconut?
What makes English Padikkyam with Inverted Coconut unique is that this Spoken English in Malayalam course is headed by Aparna Mulberry, an American native Spoken English Trainer.
The course is designed as an easy to learn course and is useful particularly for beginners who are just getting started with learning English. Many of us might have learnt English at school, but still are not able to speak fluently. This is due to lack of enough speaking practice and the right guidance.
When you join this course, you get all of these, including demonstrating how you should place your tongue when you pronounce a particular word. This will help you learn English the right way.